amatyultare
Still no PCM post. Whoops!
Here was my Friday night.
5:20 PM - Get home from work. Have taken chicken out to make a stirfry last night, decide it is too hot. Briefly consider pizza, decide it's too hot for that also. Make myself a sandwich instead, drink tons of water and limeade.
7 PM - Make myself a mojito and put on an MST3K episode (Netflix instant queue <3) while also desultorily web-surfing.
8:45 PM - Finish the movie, write a few reviews on the Sephora website, and start another re-read of
Moving Pictures
.
9:15 PM - Put down the book to get more water, promptly forget about it, and start another MST3K episode. Bounce around different makeup blogs. Take some pictures of my lips and then put on a layer of Lip Venom, to see if it actually plumps my lips.
10 PM - See that Phyrra has
swatched
the new colors from Shiro Cosmetic's Super Effective Expansion. Remind myself firmly that I am saving money and not buying any more makeup.
10:30 PM - Pause the movie to take more pictures of lips, upload them to my computer, and compare. Decide that the plumping effect of Lip Venom is minimal, but it tingles nicely and is a great gloss and smells fantastic so I don't care that much.
10:35 PM - While comparing pictures, realize my pores look huge. Randomly decide to put on some makeup and try a semi-dramatic eye. Amazingly, by being quite patient, I kinda managed to pull it off.
Face of the Day Night!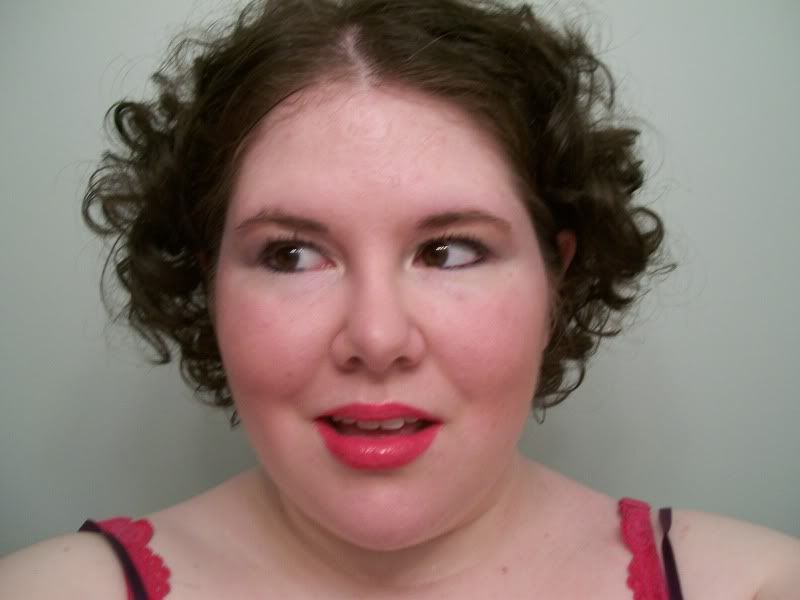 This is my 'Wow, I'm wearing blush and everything!' look. I'm wearing:
Fyrinnae Velvet-Gel Silica Primer
Aromaleigh Glissade Foundation in 2PL
CoverGirl liquid concealer
Aromaleigh Perle Powder in In Bloom (blush)
Make Up For Ever lipstick in 202 (coral pink)
Hard Candy Mouthing Off Sheer Lip Shine in Exotic
Eye closeup! Not that you can really see what I did anyway! On my eyes, I have:
MAC Paint in Bare Study
Fyrinnae Pixie Epoxy (possibly the best product in the world)
MAC eyeshadow in Nylon (all over lid)
Fyrinnae eyeshadow in Android Angel (outer 1/4th of lid and into crease)
Fyrinnae eyeshadow in Herbivore (above crease and blended into Android Angel)
Aromaleigh eyeshadow in Camillia (blended into Herbivore)
MAC eyeshadow in Jest (highlighter)
MAC Splashproof mascara in black
Urban Decay 24/7 Eyeliner in Zero
(whew!)
I took this picture to prove that glasses automatically tone down any eye makeup.
My new Facebook profile picture - please ignore the smudge-y lipstick.
11:45 PM - Start uploading and sorting pictures. Belatedly remember that MST3K episode I had on and start it again.
12:15 AM - Absently start a third MST3K episode that I hardly watch and start my LJ post.
Not the most productive night, but fun. And now I should really get to bed. Night, all!